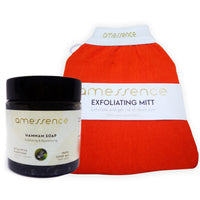 Exfoliating Mitt (kessa glove)
Description
Exfoliates and Removes Dead Skin
The Exfoliating Mitt is a staple of the Hammam Ritual, and has been used in Hammam for hundreds of years. It is an exfoliating scrubbing glove that will soften your skin and bring it to life.
Benefits
Usually used with the Eucalyptus Black Soap to deep cleanse the skin by removing dead skin cells, toxins and impurities. Blood circulation is stimulated, bringing more oxygen and nutrients to the skin with Eucalyptus Black Soap. Your skin will be ready to absorb and benefit more efficiently from the nourishing Argan Oil. 
How to use
During a warm shower, massage your body with the Eucalyptus Black Soap for 5 to 10 minutes. Rinse and scrub your skin with the dampened Exfoliating Mitt in a circular motion.
No nasties: start making 100% natural choices.
Our commitment is to provide the highest quality 100% natural products. Effective, Pure, and Fresh.
We source only from trusted Fair Trade agricultural collectives.